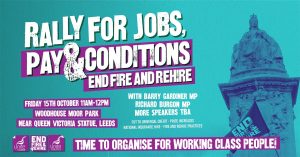 Unions Fight for £15 an hour minimum wage. End Fire and Rehire Now!
There is a real need to fight for higher wages. The hypocrisy of a Tory Government claiming they want a high skills and high wage economy is laughable.
If you are a part time worker on a 16 hour weekly contract the £10 an hour recommendation from Labour Leader Sir Keir Starmer would give you £640 a month, barely enough to scrape by. The Trade Union demand for £15 an hour would give the worker £960, an extra £320 a month more. It will help lift people out of poverty and stop rent arrears and debt creeping any higher.
It is a scandal that the Millionaire Labour leader thinks workers are worth so little for their hard work.
Cath Pinder GMB delegate moved the motion to commit the GMB to £15 an hour.
"There is not a labour shortage, but a wage shortage".
"Understaffing in care means that our parents and grandparents are being left in distress, without medication and without their basic needs being met.
"The UK's care system relies on gross injustice to generate bloated profits for shadowy private companies.
"Care workers are paid?the bare minimum while care home residents shell out their life savings?just to have dignity in old age." [1]
Unite the Union have called a rally for jobs Friday 15th October on Woodhouse Moor near the Queen Victoria Statue from 11.00am to 12.00pm.
Guest speakers Richard Burgon MP and Barry Gardiner MP. The press release states:
"As fuel, energy, food and housing costs rise, the value of our wages fall. We must fight for jobs, pay and conditions in the workplace and hold the government to account on their record and on their future plans that impact working people. Unite the Union are pleased to welcome special guests to this event where we will discuss the situation facing working class people, the organising task ahead of us and Barry Gardiner MP will talk about the Bill he is taking to Parliament to end Fire and Rehire Practices. See you there!"
We urge supporters to attend the rally.