RMT members have voted overwhelmingly for strike action in a dispute over pay and impending cuts, which threaten jobs and safety on the railways. 40,000 members were balloted across 14 rail operating companies and Network Rail. Workers have voted 81% in favour of strikes on a 72% turnout (almost double the government imposed threshold for legal action). The result is a testament to the anger workers feel at rail companies' attempts to boost profits at their expense, as well as passenger safety. It is also a glowing testament to the effort the union put in to galvanise the vote, especially the hard work of activists, officers and officials in local branches and workplaces.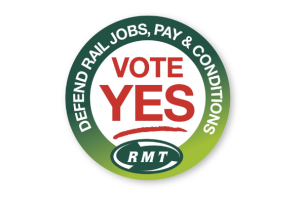 The government and train operators want to close most ticket offices, they plan to cut 2,500 safety critical jobs and have refused the union's request for job protection assurances if cuts go ahead. Despite the frontline role that RMT members played during the pandemic, the employers have so far refused even to make a pay offer. Yet Network Rail and Train Operators paid out a massive £10m in Directors' earnings last year.
It is now absolutely vital that the RMT leadership calls strike action as soon as possible. Any significant delay risks squandering the momentum built up during the ballot campaign. The first strike is likely in mid-June. It will be one of the biggest national strikes since the Thatcher period. Although the train drivers ASLEF union is not taking action, signal staff working for Network Rail are to be called out. This will cause major disruption, with services likely to be cut to 20% of normal, affecting freight deliveries as well as passengers.
Clearly the Tories are rattled. Even before the result was known, Grant Shapps threatened more anti-union laws requiring a minimum level of service to be maintained if a strike is to remain legal. Britain already has the most restrictive anti-union laws in western Europe. If Shapps pushes ahead with this, it will be the most serious threat yet to the right to strike in this country. And it will not be confined to rail workers only.
Union leaders have rightly condemned these attacks. Mick Lynch RMT General Secretary warned that his union would "fiercely resist" the proposals if they become law. Sharon Graham of Unite was even stronger in her condemnation; "Unite will confront head-on and by whatever means necessary, any further attacks on the right to strike."  Whilst TUC General Secretary, Frances O'Grady said: "Ministers have spectacularly failed to deal with the cost of living crisis. Now they are trying to distract from their failure by picking a fight with unions."
Local and regional strikes are breaking out across the country as workers respond collectively to this governments' wilful neglect of the cost of living crisis. Further rail strikes are taking place in Scotland and on the London Underground. The Communication Workers Union has planned two further national strike days next month in its on-going dispute at Crown Post Offices. PCS recently voted for national strikes over pay and threatened redundancies. A real summer and autumn of discontent is possible, but trade union leaderships must stand firm against Tory attacks on workers' democratic right to strike. We cannot afford another P&O defeat
Left Unity will do whatever we can to help build solidarity with all workers in struggle. We urge our members to get motions of support and solidarity through their union branches, visit local RMT picket lines, and send messages of support to the RMT leadership asking them to call immediate strike action. Everyone needs to get behind the rail workers. The Tories are threatening more anti-union laws precisely because they want to make it harder to strike and harder to resist their assault on our living standards. We need to build a huge strike solidarity movement across the unions, but also involving economic justice and climate justice movements. Instead of cuts and redundancies the government should be investing in public transport and cutting fares to help tackle both the economic and climate crises. The Tories may be talking tough. But hard hitting strike action now can set an example to other workers of how to fight over pay, jobs and conditions. Solidarity with the RMT strikers!