This broadsheet covering the global threat seen by Donald Trump's appointment as US President and the rise of the extreme right. Our Stop Trump placard can be customised as shown.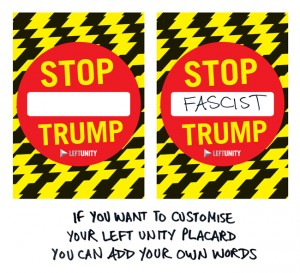 Click to view broadsheet (PDF).
Order printed copies:
Materials are free, but we ask for a donation to cover postage (suggested donation is £2 for smaller orders and £4 for larger ones). Please email office@leftunity.org with your order and mailing address.