Up to 100,000 nursing staff will take part in strike action in England and Wales on Thursday 15th and Thursday 20th December. Tory MPs are lining up to condemn the strike action. The utter hypocrisy when MPs' salaries have increased by 28% since 2010¹ to around £84,000 a year. Many have jobs on the side. Imagine the outcry if a nurse walked off shift to join 'I'm a Celebrity'- yet a Tory MP can.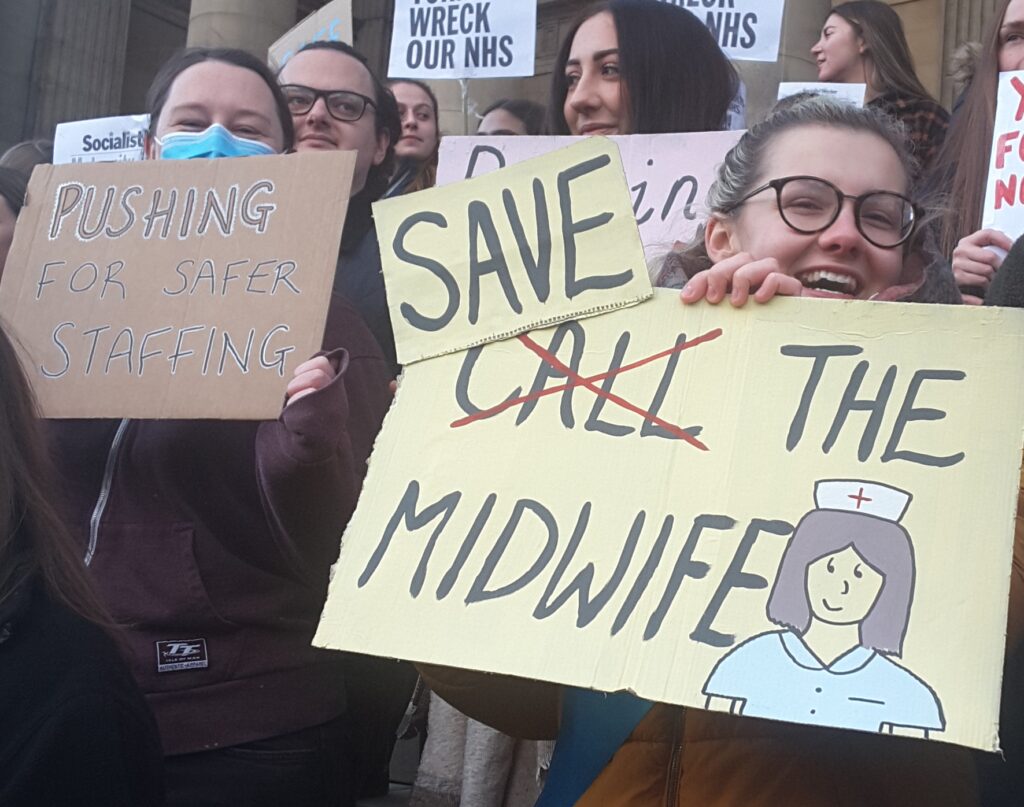 Labour Party support has been lukewarm and Labour Leader Kier Starmer has shamefully ruled out supporting nurses taking industrial action. "I don't want the strikes to go ahead. My wife works in the NHS – the last thing that anybody who works in NHS wants is to go on strike."²
Now is not the time to undermine health workers- their fight is not just about pay, it is about defending NHS services.
The Labour party are out of touch with the population. There is clear support for the nurses.
The Daily Mirror report 54% of the public support the nurses taking strike action with only 23% against.
Between 2010 and 2022, some nurses salaries in England, Wales and Northern Ireland have declined by at least 20%. In other words an experienced nurse is being paid the same amount for five days' work as for four days in 2010³. The NHS has more than 47,000 nurse vacancies in England
The cost of living crisis has seen a 17% increase in bills and other expenditure per household. The cost of housing, water and fuel are increasing. The price of Transport, health, childcare, car and home insurance, communication including phone and postal services are all increasing. Many are struggling to make ends meet. NHS Managers commissioned research into the impact of wage decline and understaffing in the NHS in August to September 2022 in England.
99% reported a negative impact on Staff's mental well-being.
100% reported a negative impact on financial well-being.
Mental health absence was increasing and 42% reported a significant or severe impact on staff struggling to afford meals while on shift. Over 50% of nurses and midwives reported work related stress and over three quarters said they felt burnt out.
Sadly, a number have sought early retirement and many have chosen alternative employment. The leaver rate has increased from 6% in 2010 to 11% in 2022.
In order to retain staff it makes sense to pay nurses more. It's far cheaper than trying to replace their skills and experience- the best outcome for patients and other health workers.
Millions clapped the nurses during Covid- we now need to stand in solidarity with them. Support their strikes and demand the pay rise they deserve.
If you can send messages of support, visit the picket lines at local hospitals and clinics. For more information about Trade Union Solidarity action see below.
Strike Map on Twitter: "RT if you think nurses deserve a pay rise. https://t.co/djQSxlpxEk" / Twitter
1 MPs' pay rise has exposed hypocrisy and wilful ignorance on civil service pay (civilserviceworld.com)     2 Keir Starmer refuses to back striking NHS nurses | The Independent                                                             3 LE-RCN-Pay-campaigning-comms-FINAL-report-SENT2CLIENT-27-10-2022.pdf (londoneconomics.co.uk)