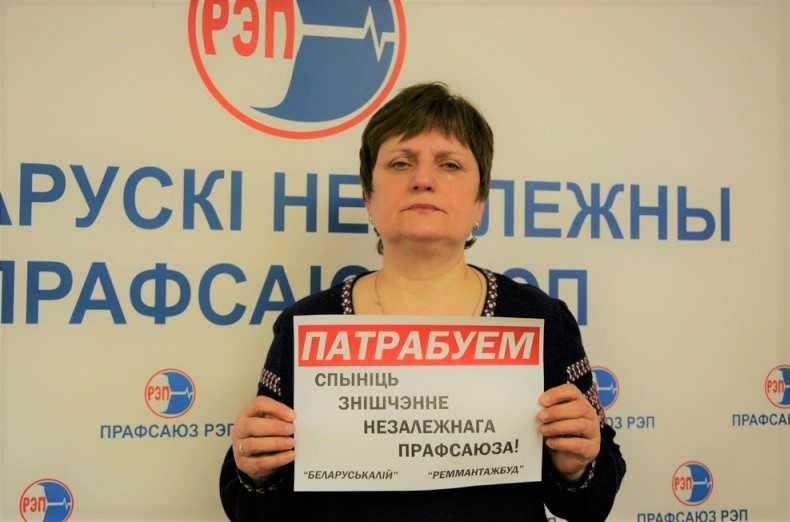 Hanna Danilovich, International Representative of the Belarus Electrical And Radio Trade Union, REP, and David Hemson write: The Belarusian alliance with Putin and support of the invasion of Ukraine has led to an all-out attack on independent unions. External aggression has been followed by ferocious internal repression. Independent unions have made their opposition to the war clear and railway workers have acted in solidarity with Ukraine by diverting or sabotaging trains carrying military equipment passing through Belarus in attacking Ukraine.
For days the movement of trains was paralysed. The Russian military had to resupply their troops by road leading to the infamous 40-mile military convoy snarl-up north of Kyiv. Clandestine networks of railway workers, hackers and dissident security forces have disabled or disrupted railway links connecting Russia to Ukraine through Belarus, wreaking havoc on Russian supply lines. The attacks have drawn little attention outside Belarus amid the drama of the Russian onslaught and the bloody aftermath of Russia's humiliating retreat.
The dictator Lukashenko has turned his fury on the independent unions particularly the Belarusian Trade Union of workers of radio and electronic industry (REP). There has been an onslaught on the Belarusian Congress of Democratic Trade Unions (BKDP) and its affiliated unions, including two IndustriALL affiliates – Free Metal Workers' Union (SPM) and Belarusian Radio and Electronic Industry Workers' Union (REP). Union leaders' and activists' homes were also searched; laptops, cellphones and papers were seized. Union leaders and activists have been detained, including Alexander Yaroshuk, Sergey Antusevich, Irina Bud-Gusaim, Nikolay Sharakh, Gennady Fedynich, Yana Malash, Vitaly Chichmarev, Vadim Payvin, Mikhail Gromov, Aleksander Bukhvostov, Igor Komlik, Vasiliy Bersenev, and Dmitry Borodko.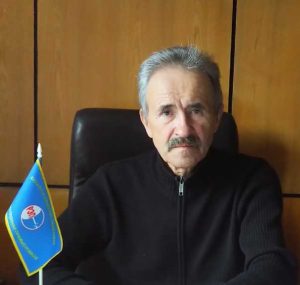 Belonging to REP is itself now a crime under article 361-1 of the Criminal Code and punishable with 6 years of imprisonment. Gennady Fedynich who leads the union is now in KGB cells without any charges made against him. He is a cancer survivor and unlikely to survive a long sentence if convicted on false charges of terrorism. Undoubtedly he is being interrogated about the role of REP and other unions in opposing the invasion of Ukraine by Russia which Lukashenko enthusiastically supports.
Shortly before his detention he celebrated the growth and strength of trade unionism in Belarus. "I am sure that our trade union will exist as long as the working people need it. At our last quarterly meeting 72 new members were accepted. In REP people are hanging in regardless of any efforts of the authorities."
An extrajudicial decision of KGB on April 7, 2022, defined REP as an "extremist formation". This is the first time that an officially registered trade union has been included on such a roster of "extremist formations." When REP asked for a written explanation why a union compliant with the national and international law was classed "an extremist formation", new searches and detentions were ordered. The KGB has turned on REP, smashed its offices, grabbed its membership lists, arrested key officials, confiscated laptops and phones and sealed the doors of the offices.
The frontal attack on trade unions has come after a long period of repression. REP was going through a sustained revival after the crushing of the 2020-21 mass protests and general strikes against rigged elections. In his last report before detention Gennady was optimistic and courageous, "Despite all the difficulties, trade union work does not stop. There are events that please us, but there are also many alarming signals today."
He wrote of seminars with 15 new participants… recent members from different regions – Vitebsk, Grodno, Gomel and Minsk regions. These have been held with lively discussion.
The police, however, were using seized lists of members that to summons them to the prosecutor's office. "Then plain clothed police follow members home urging them leave our independent trade union. Contract workers are threatened their contracts will not be renewed." Despite this, he reported workers were resilient saying "we are not going to leave the REP and if we are fired we'll find another job, we will not run from our trade union."
While the focus of all media and also the labour movement is on Ukraine, the Belarusian unions urgently need support.
Statements of support from the ILO, IndustriALL, the ITUC and other international unions are welcome, but sustained support from the base of the labour movement is needed. The international policies of British TUC and the AFL-CIO, for instance, are crucial internationally. Unfortunately policies are synchronized with existing government policy rather than the urgent needs of the labour movement under the iron heel. Support for Belarusian unions is weak.
This has to change.
Independent unions in Belarus have been under continuous attack since 1990 with searches of union offices and homes of union leaders and activists, administrative penalties, detentions and imprisonments of those who fight for workers' rights. More recently, there has been an increase in interrogations of union activists, installation of video and listening devices illegally in union offices, and forceful pressure on union members to resign from their union has become widespread.
This repression has not seen the strong opposition needed from many international organizations. Rather there has been support for the nationalist opposition led by Sviatlana Tsikhanouskaya which unfortunately has given little support to independent unions. Instead the state-controlled unions which conduct Lukashenko's election campaign and support repression of genuine unions have access to the many international federations.
Workers in Belarus, in Russia and elsewhere in Eastern Europe are not free at work or in the state unions. Contracts are governed by workbooks which control every aspect of employment; workers are not free to resign from oppressive conditions and seek new work, women are banned from many jobs and there is no social safety net. In conditions not even found in capitalist countries, unemployed workers are called "parasites" and denied social services. These measures are supported by state unions.
The time has come for the state unions to be denied international participation. The independent unions urgently need our support, from our branches and trade unions, political parties, municipalities, cooperatives, student groups and every organized sector.
We call on the Belarusian opposition to raise the suppression of the democratic labour movement at every opportunity, in every meeting, and in all international bodies, particularly the ILO. Belarus must be driven out of the ILO.
We campaign internationally for these demands:
• An international Day of Action for Trade Union Freedom in Belarus,
• The immediate release of Gennady Fedynich and all other trade unionists in Belarus,
• The removal of the KGB proclamation that the REP union is an "extremist" organization,
• The removal of Belarus state unions and state representatives from the ILO,
• Messages of support to the REP union and to provide what material support we can.
Please forward resolutions of support to REP at e-mail: repbelprof@gmail.com and the international representative of REP (Hanna Danilovich, h.danilovich.work@gmail.com).
Hanna Danilovich is International Representative of the Belarus Electrical And Radio Trade Union, REP.