Housing is a basic human need and should be a right. It should not be a commodity. The building industry and poorly insulated housing are major contributors to CO2 emissions and the climate crisis. We must find a way to provide housing for all without endangering the ecology of the planet.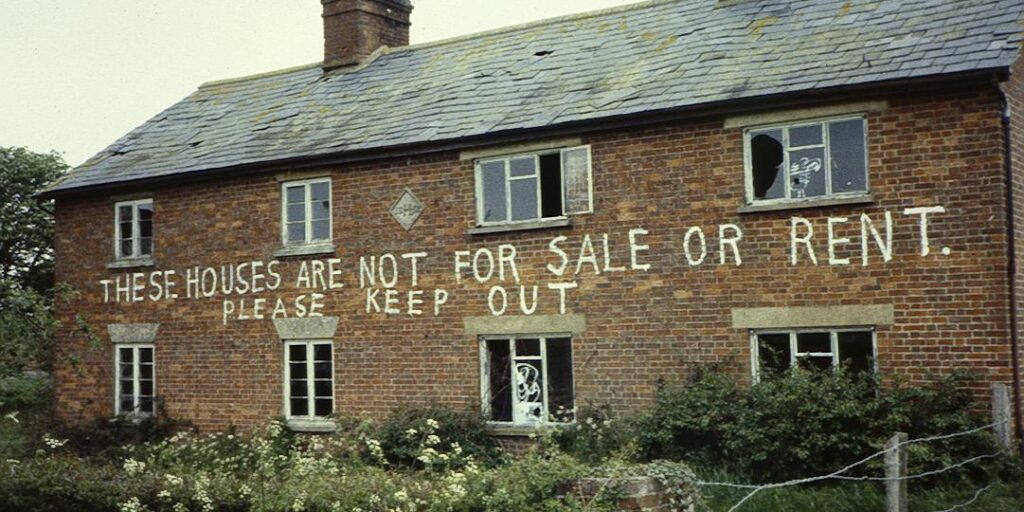 Decline in Social Housing
In the 1970's local councils built almost half of all new homes. By 1979 42% of the UK population was housed with secure tenancies in cheap, modern public accommodation. Most local council housing maintenance was done by directly employed labour. Now, following 4 decades of Tory and Labour governments pursuing monetarist and neoliberal policies, in 2019-20 only 1.65% of the homes completed were built by local authorities. The proportion of the population living in council housing has fallen to 7% and in all social housing (council & housing association combined) 16.6%. Almost all council house building and refurbishment is contracted out to layers of private contractors and sub-contractors.
With housing prices out of the reach of most first-time buyers, and a scarcity of social housing (compared to earlier generations), more and more people have been forced to rely on a poorly regulated private rented sector. This combined with removal of rent controls by the 1980 Housing Act and interest returns on other forms of investment dropping made the private letting sector increasingly attractive to investors and has led to rents rocketing.
Housing Need
In 2019 a study by Heriot Watt University found that there were 3.91million households in Great Britain with housing need, 3.37 million of which were in England. Around half of these are households containing concealed households. Adding in core and wider homeless people not within private households would add 0.23 million (making a total of 4.14m with housing need). Many households (4.65m) were in poverty after they had paid their housing costs, having to choose between rent, heating and eating. The recent interest rate increases will also force many with mortgages into poverty and negative equity, and risk of losing their home. This winter those choices will be starker then ever with many more facing falling into homelessness. With mortgages moving out of reach, there will be more pressure on the private rented sector fuelling rent rises. Rents and mortgage rates, rather than people, should be frozen over the winter with a review not before 12 months.
To build or not to build?
Clearly millions of additional homes are needed. The National Housing Federation estimates that to both meet the backlog and provide for future demand, the country needs 340,000 extra homes per year until 2031.
Last year (2021) only 175,000 new homes were built mainly for private sale at prices unaffordable to those in housing need. More than half of the 1,900 ultra-luxury flats (priced over £1 million) built in London last year, where housing poverty is most acute, failed to sell. Not only are too few homes being created, but too much of the wrong sort of housing is being built. The 'free market' is failing to deliver the homes people need.
The traditional demand on the left has been for a massive council/public housebuilding program of homes for social rent.
However, in recent years the climate crisis has caused environmental campaigners to question the building of new housing. Buildings produce 40% of the UK CO2 emissions, with about half of this coming from their construction. Construction of a 2-bedroom house by conventional means creates about 80 tonnes of CO2 emitted whereas refurbishment of a similar property to reduce emissions, creates about only 8 tonnes. So, where possible, conversion of existing properties to modern and net zero (or negative) emission use standards is less environmentally damaging than, and so preferable to, demolition and construction of new properties to similar standards. Refurbishment also causes less dispersal of established communities.
Alongside this, the latest Government data shows that over 238,000 homes in England have been empty for over six months. In all, over 600,000 homes are currently vacant. Add in over 67,000 holiday lets and 253,000 second homes and total vacancy sits at around a million homes, meaning that across England 1 in every 25 homes is without residents.
We call for bringing these empty homes and second homes back into full time residential use. This can be attempted by incentives and taxation. But where this does not work empty properties should be compulsorily acquired by Local Authorities for use as social housing. Where property lies empty, we support the legalisation of squatting to bring it into use. There must be a limit on the number of properties for holiday let in each area.
Some environmental campaigners claim that if under-occupation is taken into account there is no need for new building at all, with its cost to the environment. However, these estimates are somewhat speculative and contested and would require all under-occupying households to move to smaller properties. Even if this could be achieved, it would be at a social and community cost particularly to older and disabled people. Voluntary downsizing should be facilitated, but compulsory relocation on this basis should not be a demand the left takes up.
Additional council housebuilding will still be necessary (and on a significant scale), but a national 'green' housing plan for home creation by the least environmentally damaging and socially useful means should be drawn up. This should create at least 350,000 truly affordable new homes per year (of which at least 60% should be council housing) through the least environmentally damaging combination of refurbishment, bringing into use empty homes, and building homes for social rent. In new builds there must be a move away from concrete to more sustainable building materials.
A national publicly owned building organisation should be created to refurbish and build these homes, with a trade unionised workforce. The 'Right to Buy' must be ended to keep new and remaining public housing in public ownership.
Democracy, tenure and community
Tenants of Social Housing often have little control over their homes, this has encouraged support for 'right to buy' schemes. Social tenancies should be secure for life and tenants should have a meaningful democratic input into planning and control over their homes. All council housing should be genuinely affordable at Social Rent levels (ie historic council rent levels) rather than what the current housing policy defines as 'Affordable Rent' (up to 80% of market rent). New planning models should aim to locate all a resident's essential needs (employment, leisure, food retail, schools and other services) within walking distance or reasonable access by cycling or public transport from their homes.
A variety of housing types will need to be designed to meet the needs of the disabled, older people, and young people as well as different household compositions. There must also be sufficient good quality sites provided for travellers, and moorings for boat dwellers.
Rent controls
Until there is a sufficient supply of council housing for everyone who wants it, many will still need to rely on private renting. Private renters must have security of tenure and full access to financial information about the landlord's costs related to their home.
Rent controls must be introduced to freeze rent increases until private rents are at levels equivalent to social rent (council rent) and thereafter to cap rises to equivalent rates. Landlords must be legally required to meet decent home and environmentally sustainable standards, with legislation giving public authorities and tenants real powers to enforce this. Where landlords will not or cannot continue to let, the properties should be acquired by local authorities as social rental homes, or the tenants as co-operatives, with compensation rates determined by law rather than the market and taking into account the rent tenants have previously paid to the landlord.
Current campaigns
The Radical Housing Network has adopted a People's Housing Charter calling for the following measures:
1. Convert long-term vacant properties to social housing.
2. Refurbish and repurpose – rather than demolish – existing buildings, to provide homes or to revitalise empty high streets through community use.
3. Where new buildings are necessary, they must be built with sustainable materials and be truly carbon neutral (without 'carbon offset' payments).
4. Introduce and enforce rent controls and secure tenancies for all renters.
5. Tax the increasing value of private land to fund public investment – a land tax.
6. Retrofit all buildings to the highest environmental and safety standards including insulation and affordable renewable energy schemes.
7. Introduce participatory democracy in all areas of planning and control over our homes. This could include planning juries, citizen assemblies, tenant associations and tenant co-operatives.
Action on Empty Homes campaigns to bring empty homes back into use for social need. Private renters are organising in renters' unions such as Acorn and the London Renters Union.
We as Left Unity support and urge our members to be active in all these and similar campaigns but ultimately recognise that capitalism will not solve the housing crisis and the ruling class has no interest in doing so. For that, we will need a social, economic and environmental transformation of society to achieve the full democratisation of state and political institutions, society and the economy on an ecosocialist basis, by and for the people. See our manifesto here.
Doug Thorpe
Left Unity National Secretary and a member of the Radical Housing Network.