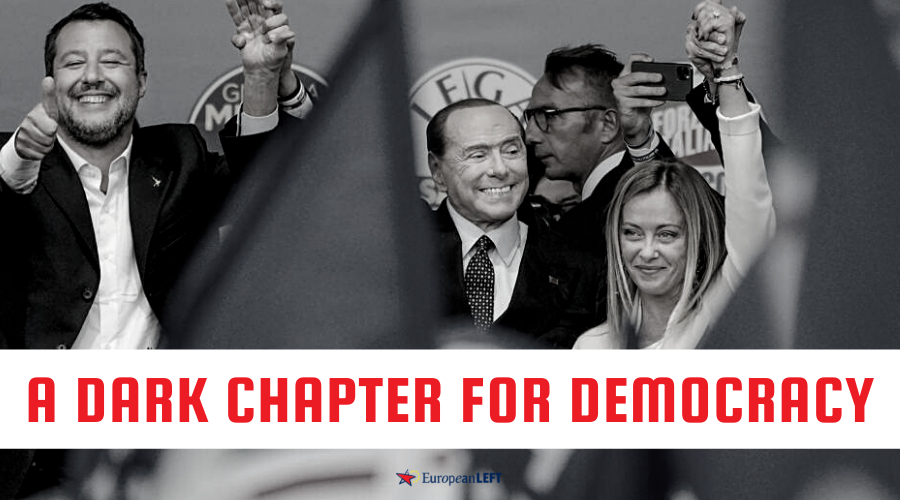 A statement from the European Left Party: Giorgia Meloni, the far-right leader in Italy, declared victory in the Italian elections and is anticipated to create the country's most right-wing administration since World War Two.
With almost 44% of the votes, Ms. Meloni's right-wing coalition, which also includes Matteo Salvini's far-right League and former prime minister Silvio Berlusconi's centre-right Forza Italia, will gain control of the Parliament. In the wake of a dark chapter not only for Italy but Europe and democracy, Heinz Bierbaum comments:
"With Meloni's win in Italy, neofascism is currently on its route towards us. Everywhere across Europe, the rise of regressive, xenophobic, and authoritarian rhetoric is gaining momentum. It is a sad day today, not only for the Italian people but for all democratic processes. The vote for the far right is certainly also an expression of the protest against the dominant neoliberal policy which led to the current dramatic social situation. But we know that the far-right will not protect workers and the ones on the front line of the emerging crises. Let us not forget that this is a post-fascist party supported by the business community that will continue the long history of abandoning the working class and threatening basic human rights.
"The election results show how critical it is to forge a genuine left alternative that fights for workers, women, migrants, LGBTQ+ people, the climate, and all those who are affected by the current crises and threatened by the far-right.
"As the Party of the European Left, we stand by every Italian who will be adversely affected by any Mussolini-inherited rhetoric. We support our parties Rifondazione Comunista and Sinistra Italiana and all the leftist forces who, from both inside and outside the parliament, will resist and fight against Meloni's far-right policies. We stand in solidarity with the Italian unions and the progressive movements in the battles to come. Today, and every day, we are all anti-fascists!"
#SiamoTutt?Antifascist?