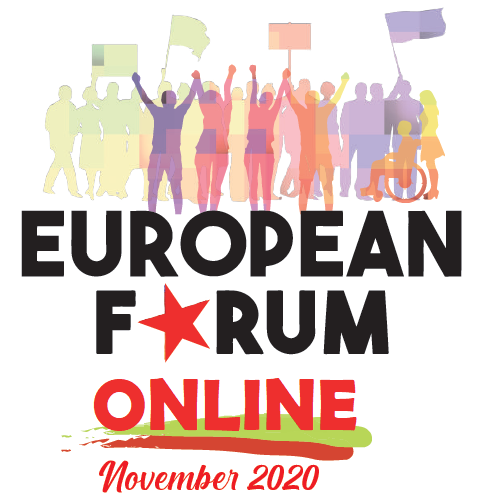 The European Left, progressives and greens are meeting together to plot a new path out of Covid, jobs and climate crises
The fourth annual European Forum, to be held for the first time online, will bring together the left, greens, socialists and progressives between 8th and 28th November 2020. The opening event is to take place between 3pm and 5.30pm (UK time) on 8th November and includes representatives from Europe's three progressive political families. The three-week programme will include seminars, debates and discussions with the participation of parliamentarians, ministers, academics, trade unionists and political and social activists.
Speakers at the launch event include: *Alberto Garzón (Minister of Consumer Affairs, Spain) *Catarina Martins (MP, coordinator of Bloco de Esquerda, Portugal) *Heinz Bierbaum (President of the Party of the European Left) *John McDonnell (Labour MP, former Shadow Chancellor of the Exchequer, UK) *Manon Aubry (MEP, Co-Chair of the GUE/NGL) *Martin Schirdewan (MEP, Co-Chair of the GUE/NGL) *Marga Ferré (Co-President of transform!europe) *Mary Lou McDonald (TD, President of Sinn Féin, Ireland) *Thierry Bodson (President of the FGTB, Belgium) *Tibor Szanyi (IGEN, Hungary) *Maite Mola (Vice President of the Party of the European Left)
The forum is a unique space where a broad spectrum of political and social groups, who sometimes find themselves at loggerheads, can forge a common response to the challenges of the pandemic, racism, the climate emergency, rising unemployment and poverty, gender inequality and militarism. As well as numerous forums dealing with specific themes, assemblies for women, trade unionists, cultural networks and young people will give a voice to these groups, whose role in building a better future for Europe is often underestimated. Various European foundations and the GUE-NGL group in the European Parliament will also take part.
The Forum was first held in Marseille in 2017, then in Bilbao in 2018 and Brussels in 2019. It has become a regular feature in the calendar of left, green and social-democratic parties, as well as trade unions and civil society, and an important space for exchanging ideas and setting strategy among Europe's progressive political groups.