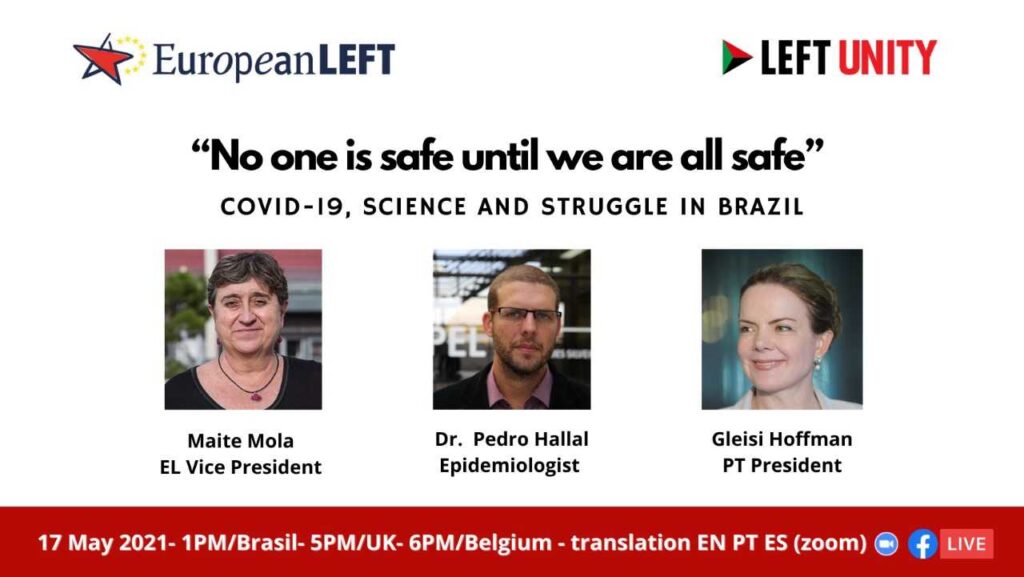 Zoom Public meeting: Monday 17th May 1pm in Brazil; 5pm in UK; 6pm in Brussels (with translation)
Please join us by Zoom to discuss the Covid crisis in Brazil and Europe. We are delighted to welcome scientist Dr Pedro Hallal from Brazil, Gleisi Hoffman, President of the Workers Party of Brazil (Partido do Trabalhadores PT), Maite Mola,Vice-President of the Party of the European Left, and Silvana dos Santos Harte, PT member living in London. Felicity Dowling, Left Unity Principal Speaker will introduce and chair the meeting.
There will be plenty of time for discussion.
Covid-19 is killing people in their tens of thousands in Brazil. This is a disease that can be contained by Find, Test, Track, Trace, Isolate, and Support, by social distancing and good ventilation, and with lockdowns employed when the disease gets out of hand. Governmental failure in the UK, Brazil, India and other counties, has cost and is still costing lives. Every human life matters. Each life lost is a tragedy and a bitter blow to their family and friends.
This governmental failure is deeply political, and linked closely to those governments with the most right-wing anti-science policies. Modern society requires science to function. Our very lives depend on it. Health care requires a fully equipped and funded nationally connected system with good planning.
Modern agribusiness, huge pig and poultry farms, and clearing the complex web of existence that are our wildernesses, present the ideal environment to grow and share these viruses. Global travel and trade mean no country can really be isolated from any other.
The rapid production of vaccines has shown what happens when science is deployed for human need. In contrast, the restriction in production of those vaccines to protect profit and patents is allowing more people to die. Socialists across the world have been calling for the freeing of vaccine production and for the full implementation of the non-pharmaceutical measures to control the virus.
Workers must be financially and socially supported to isolate if they are infected or have been in contact with the virus. Action to keep workplaces safe are essential. Refusing this perpetuates the pandemic and costs much more money than prevention.
People who live in small or crowded homes must have a place to go to isolate, and be supported there, away from their families who will otherwise themselves become infected.
In discussions in Europe the issue of Brazil was raised by Brazilians living in Europe. This meeting expresses practical solidarity.
Join us to discuss our experiences in Brazil and Europe, of learning about the science of the virus, about fighting the virus in the workplaces, of countering, to some extent, government failures, and preventing future outbreaks.
We will send deep condolences to other countries facing such crises, and offer our solidarity and the slogan that no one is safe until we are all safe