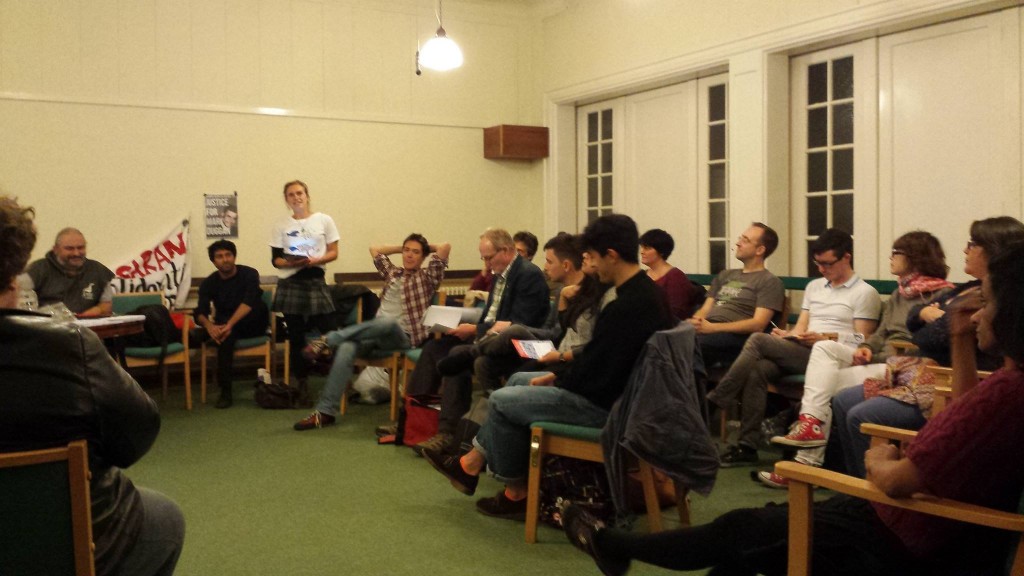 Jon Duveen of Cambridge Left Unity reports.
Over 50 people attended a meeting in Cambridge last Thursday evening to discuss how the left within the Labour Party and the left outside Labour can work together to campaign around issues in Cambridge. The meeting was called on the initiative of Cambridge Left Unity and was supported by Cambridge rs21.
The meeting was called at short notice after over 1,500 came to hear Jeremy Corbyn talk on the last Sunday of the leadership campaign. Clearly there was a large layer of support in Cambridge for the type of politics Jeremy Corbyn was articulating. This gave us in Cambridge Left Unity a real opportunity to work with supporters of the Labour Party and this was the basis of our discussion in Cambridge Left Unity.
The view we came to after, a discussion, was that we needed to find a way to try and get the left, both inside and outside the Labour Party, to discuss working together around agreed campaigns. We knew that there was some animosity between various groups and individuals in the left in Cambridge but felt that we had to be open and non-sectarian in our approach to building the meeting. We also agreed to approach Cambridge People's Assembly, Cambridge Keep Our NHS Public as well as Andrew Osborne, a local trade unionist, and Luke Cooper, a politics lecturer at Anglia Ruskin University, to give short introductions at the meeting.
The meeting attracted many Labour Party members and independent socialists as well as supporters of Left Unity, rs21 and the Green Party. After the introductions, the discussion started off by looking at the Corbyn campaign and what might happen to the Labour Party but soon moved on to what we could do in Cambridge. There were many ideas and eventually we agreed on the following two points:
a) Hold a 'celebration' of Jeremy Corbyn's election in the form of a street event sometime on the weekend of September 26/27.
b) That we needed to meet again soon to look at what we can actually work together on in Cambridge.
The meeting was very positive and there seems to be a real desire to collaborate together around various campaigns and issues in Cambridge.