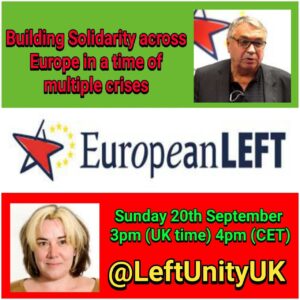 Meet Heinz Bierbaum and Marga Ferré:
As we face massive global crises, the left across Europe is building an alternative politics based on solidarity, justice and democracy. Join us to discuss with our two speakers from the European Left.
Heinz Bierbaum is President of the European Left Party, a trade unionist and a member of Die Linke, the German Left Party. Heinz will speak about the EL's Protect our Future initiative – a left programme for the Covid-19 world.
Marga Ferré is Political Organiser for Izquierda Unida, Spain's United Left party. IU is currently part of the Socialist-led coalition government of Spain. Marga will speak about the opportunities and challenges of being part of government.
Please register here
https://us02web.zoom.us/meeting/register/tZ0pf-qqrDIoE9fUaAAnw7yxfbPvSJ-x8crt