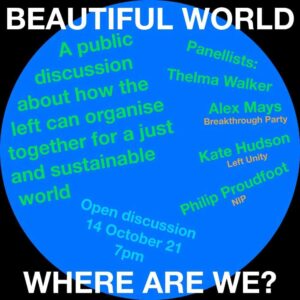 Join the discussion! Thursday October 14th 7pm with Thelma Walker, the Northern Independence Party, the Breakthrough Party and Left Unity.
Since the end of the Corbyn leadership we have seen the Labour Party shift sharply to the right. There is a ongoing purge of the left and over the last year as many as 150,000 members have left or been driven out of the organisation.
It is important to discuss the way forward beyond the Labour Party. The rule changes at the recent LP conference mean that there is no path for the left to win the leadership of the party in the future. Moreover we have to make a critical analysis of the Corbyn period.
There is a political vacuum on the left and a real need to find an effective way forward. Left Unity seeks to build a broad based radical left alternative and will discuss and work with others in order to achieve that goal.
Join us on Zoom. Register here