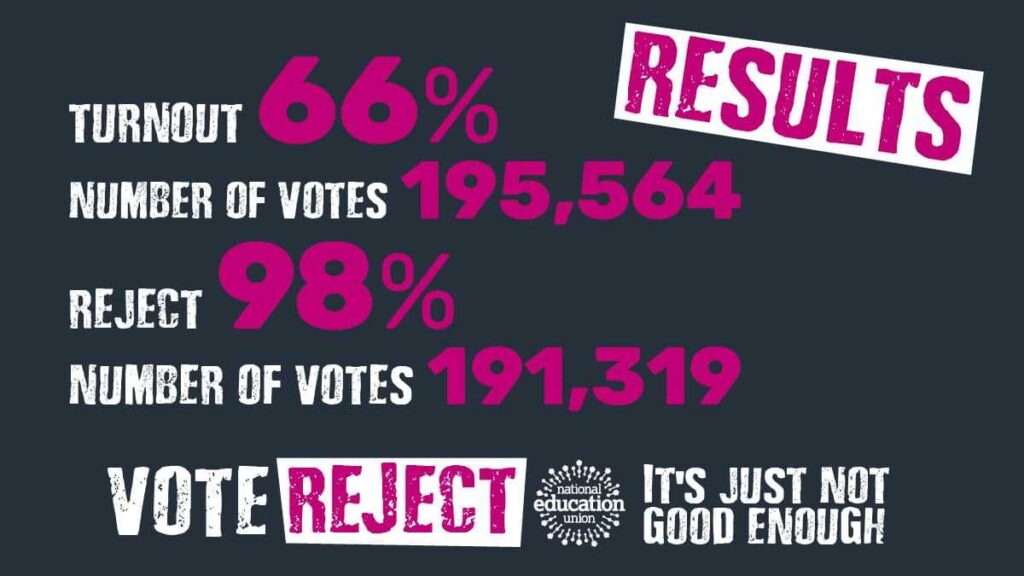 Nick Jones writes: The NEU consultative ballot on the Government's pay offer has been rejected by an overwhelming 98% of NEU teacher members in England on a turnout of 66%[1].
191,319 serving teachers in state schools in England have voted to reject Gillian Keegan's offer in less than six days.
This shows how unhappy teachers are with pay but conditions of employment have worsened leading to teacher ill health and an unprecedented exit from the profession by thousands of teaching professionals[2].
The latest survey of 18,000 NEU members shows the impact long hours and challenging working conditions are having on their health. It is shocking that many teachers take medication to cope with the pressures.
·       Around half of teachers (48%) told us that workload is unmanageable, either most of the time or all of the time. Just 1% of teachers and 10% of support staff said it was manageable all the time.
·       Stress levels are high, with more than a third of teachers saying they are stressed 80% or more of the time. Two-thirds of teachers say they feel this way more than 60% of the time, and almost half of support staff feel stressed more than 60% of the time.
·       High on the list of interventions that would have a 'big positive impact' on workload pressures, in the view of teachers, are increased funding (88%), a reformed inspection system (79%), and smaller class sizes (73%)[3].
Commenting on the result, Dr Mary Bousted and Kevin Courtney, Joint General Secretaries of the National Education, said:
"This resounding rejection of the Government's offer should leave Gillian Keegan in no doubt that she will need to come back to the negotiating table with a much better proposal.
"The offer shows an astounding lack of judgement and understanding of the desperate situation in the education system.
"No teacher wants to be on strike. Nor can they accept this offer that does nothing to address the decades of below inflation pay increases making them the worst paid teachers in the UK. The offer will do nothing to stem the teacher recruitment and retention crisis which is so damaging to our children and young people's education"
It is important that pressure continues on the Government over pay and conditions of employment. We need to end the long hours, high stress and lack of pay increases in real terms over years of Tory Government and multiple Education Secretaries.