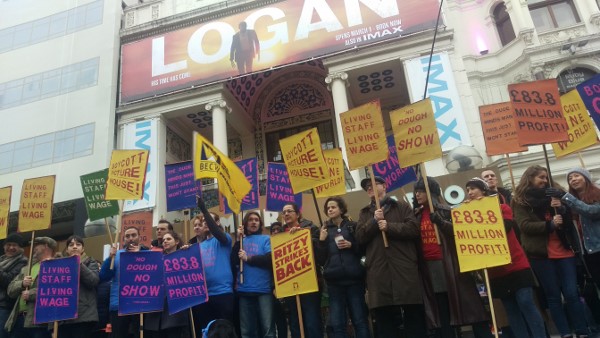 Picturehouse cinema workers have been on strike for the living wage and union rights for over a year: the company have responded with threats and sackings. Help them out this October!
Check out the Facebook event for the protests here
The London Film Festival runs 4-15 October.
During this period there will be nightly high-profile film showings in both the Hackney Picturehouse (on Mare Street) and Picturehouse Central (on Shaftesbury Avenue).
The company will make lots of money from this festival (or try to!) and it is an important time for promoting their brand.
We want to bring to these film showings with a high-profile reminder of the company's union-busting antics. This will put a lot of pressure on them, hurt their profits, and hurt their brand.
On some nights in the festival, the workers will strike. On other nights, there will be no strike, but supporters from around London will come and organise protests.
We want trade unionists, Labour Party members and anyone who supports the dispute to come along of an evening to either Hackney or Central, and wave placards and banners, hand out leaflets to the public, and do some chanting. The protests will start about 5:30pm every night and run until about 8:00pm.
Let us know when and where you can help us! Fill out this form to sign up to help.
For more information about the dispute, and more ways to help, please check out picturehousefour.org
To submit an article for the 'Discussion & Debate' section of our website please email it to info@leftunity.org