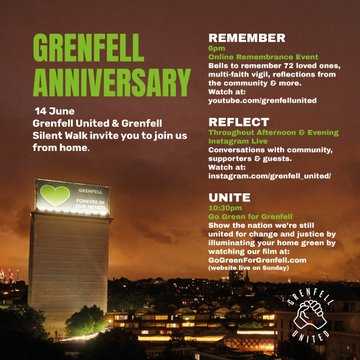 Sunday 14 June marked the 3rd anniversary of the Grenfell fire in which 72 people, predominantly from BAME backgrounds, died.
Three years on there has been no finding from the Public Inquiry, no one has been held to account, some survivors have not yet received their compensation, and 23,000 households in this country still live in homes with flammable cladding.
In the middle of a pandemic that is disproportionately killing BAME people, and at a time when #BlackLivesMatter has become the protest cry of people around the world, it is important that we remember those who died or had their lives destroyed by the fire.
Campaigners from Justice4Grenfell have launched a campaign to get the Government to commit to a deadline to remove all ACM and non ACM flammable cladding systems with a detailed timeline of how they will achieve this. They are asking people to write to their MPs to demand this. Details can be found at https://supportgrenfell.co.uk/
#GoGreenForGrenfell
#demandchange