A new movement is born
From our latest newsletter.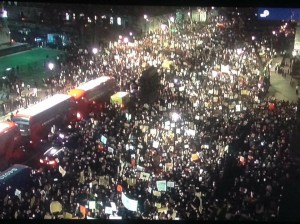 Millions of people in the US and across the world have taken to the streets to protest the racist, sexist and homophobic policies of the new US President Donald Trump. In the UK we have seen dozens of such protests with three huge mobilizations alone in central London. A new movement has been born and Left Unity is determined to help it flourish and develop. Tens of thousands of young people are coming into political activity for the first time. They are our hope for the future. We stand alongside them.
Theresa May has invited Trump to make a state visit. Left Unity is working with others to demand this visit is cancelled and to mount the largest possible protest should it go ahead. Please join the new Stop Trump Coalition and sign the pledge!
Last Monday evening and again on Saturday, tens of thousands of people, in more than 35 towns and cities stood against Trump's bigotry. Our members were present at many of the protests. Some of your photos are here.
Join the nationwide day of action on 20 February.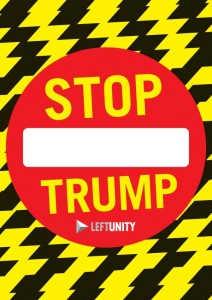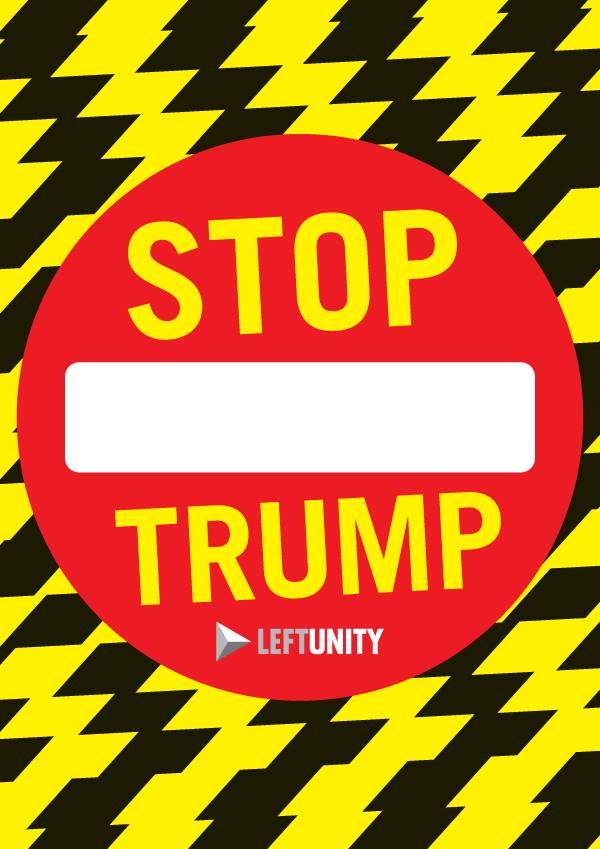 A petition to parliament of nearly 2 million people has called for the state visit to be cancelled. On Monday 20 February parliament will debate the petition and there will be a nationwide day of action co-ordinated with One Day Without Us: UK National Protest to say loudly "Stop Trump! Defend Migrants!" Read more in the Evening Standard.
Left Unity has produced new placards for this campaign. Please contact us at info@leftunity.org if you can help us distribute them where you are.
Let's get moving.
---
Left Unity is active in movements and campaigns across the left, working to create an alternative to the main political parties.
About Left Unity Read our manifesto
ACTIVIST CALENDAR
Events and protests from around the movement, and local Left Unity meetings.
Friday 28 April, 18:00
Never Again! Marking 50 years since the Military Coup
Speakers, banned songs and Greek food with the Greece Solidarity Campaign and Anti-Fascist Action for Greece. Unite the Union HQ, Holborn, London.
Facebook event here
Wednesday 3rd May, 14:00
Eleanor Firman memorial meeting
Remembering our much-loved comrade. Hosted by East London Unite Community.
SharnHall Methodist Church, Walthamstow E17 9HX
https://www.facebook.com/events/256691064802972/
Monday 8 May, 19:30
Punk, Culture and Socialism
Presented by West London Left Unity & Artists for a Left Future, with Ray 'Buddy Hell' Campbell & Lally Laud at Churchfields Cafe, W3 6EBMusic, cakes, coffee and discussion. Free entry. FB event: https://www.facebook.com/events/201094907055140/
Saturday 24 June
March for Homes
Join the movement preparing for this demo: private, council, housing association and co-op tenants, unions and housing campaigners
To get involved email info@axethehousingact.org.uk or call 07432 098440
Sun 23 – Sat 29 July
International Youth Camp, Otranto, Italy
The Fourth International's annual youth camp – find out more about socialism, feminism and environmentalism.
For more information email contact@socialistresistance.org
GET UPDATES
Sign up to the Left Unity email newsletter.
CAMPAIGNING MATERIALS
Get the latest Left Unity resources.