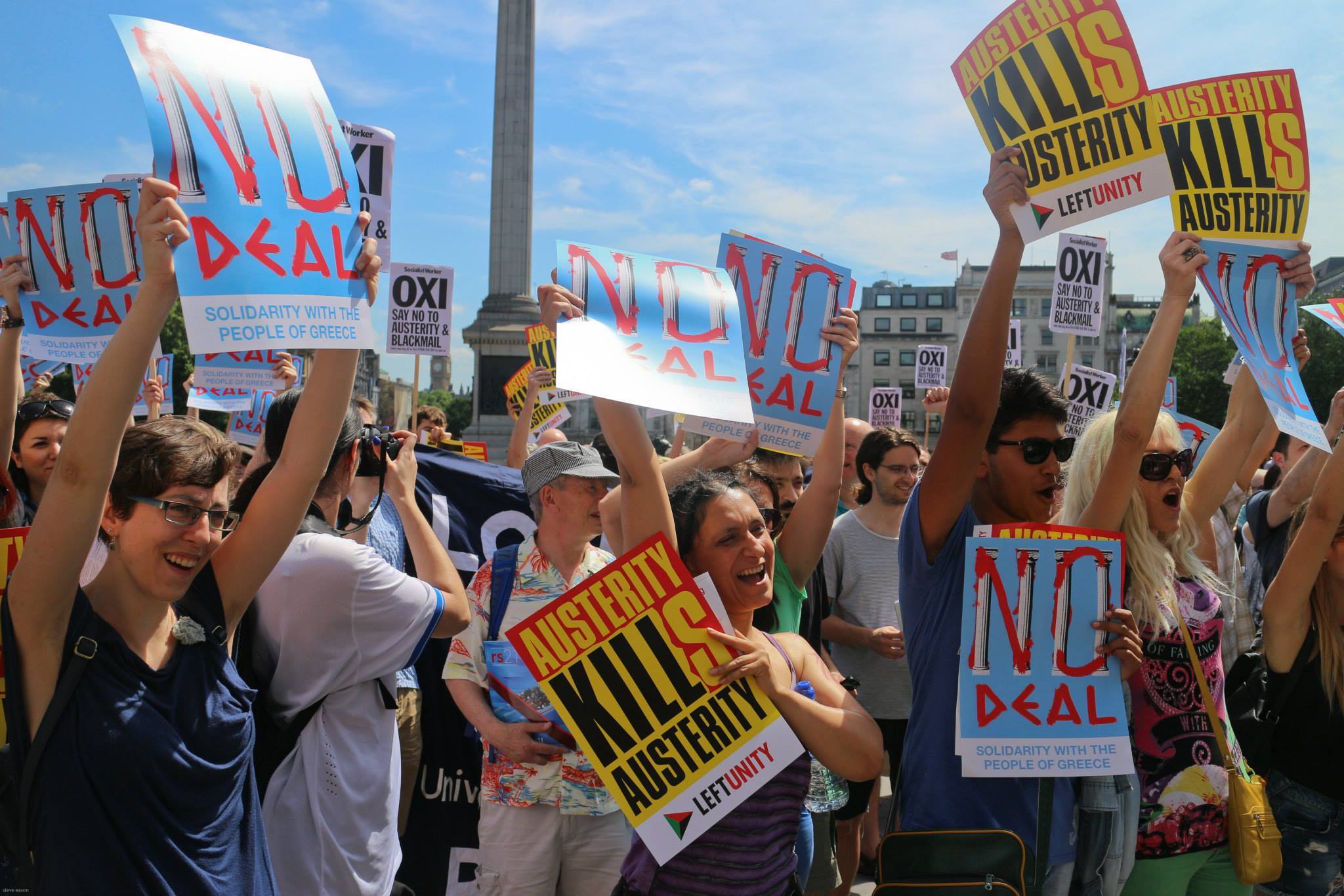 Demonstrations have been held across Britain in support of the Greek people. Read more »
A leaflet you can print yourself, putting forward Left Unity's position on the need to cancel Greece's debts, respect Greek democracy and end austerity now. Read more »
---

Panos Trigazis from Syriza's international department appeals for solidarity. Read more »
Local reports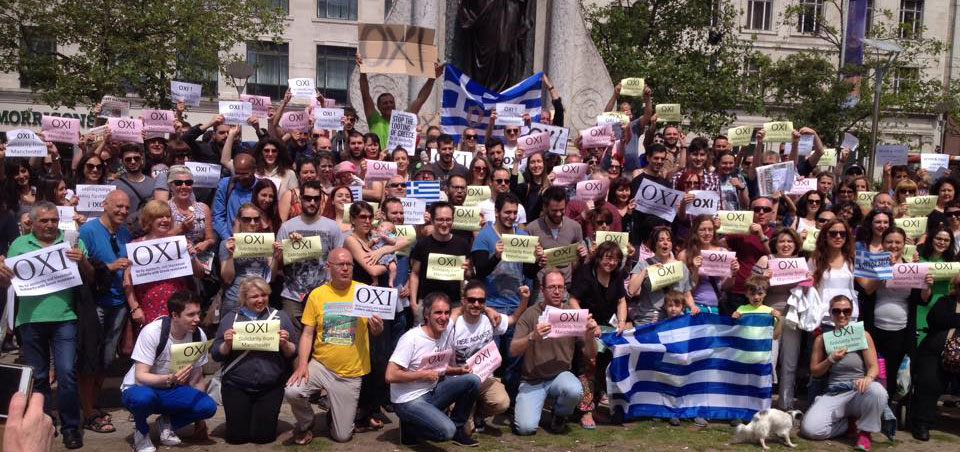 Bev Keenan from Left Unity Manchester reports. Read more »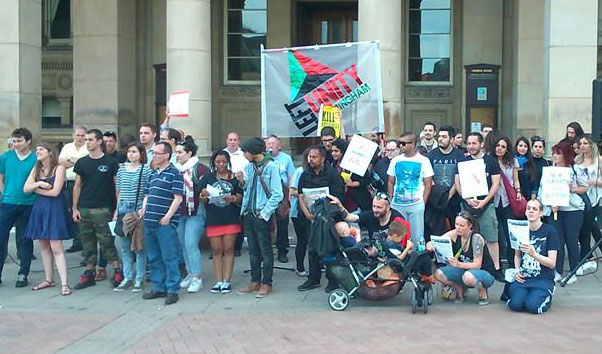 Bob Whitehead reports on a protest in the city in support of the people of Greece. Read more »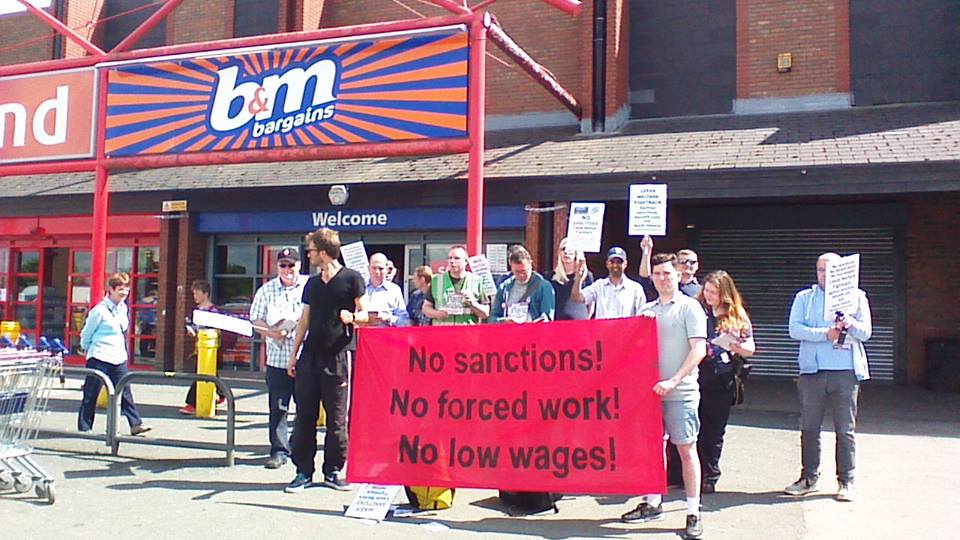 Left Unity branches report from the anti-workfare day of action Read more »
An emergency protest has been called against the European Central Bank's plan to cut off funding to Greece. Read more »
---
Discussion & Debate
Stuart King from Lambeth Left Unity writes. Read more »
Antonio Martínez-Arboleda looks in detail at the birth and growth of Podemos, and the debates now around open electoral platforms. Read more »
Ed Potts of Exeter Left Unity joins the debate around how we should respond to Jeremy Corbyn's candidacy for Labour leader Read more »
Andrew Burgin writes on the importance of Jeremy Corbyn's candidacy for Labour leader Read more »
Left Unity is active in movements and campaigns across the left, working to create an alternative to the main political parties.
About Left Unity Read our manifesto
ACTIVIST CALENDAR
Events and protests from around the movement, and local Left Unity meetings.
Wed 8 July, 17:30
Protest: Osborne's Emergency Budget - #EndAusterityNow The People's Assembly Against Austerity
UK Parliament (and UK-wide)
Thu 9 July, 19:00
Defend the NHS: Screening of - "Sell Off" - film & discussion. Left Unity in Middleton & South Leeds.
Tenants Hall Enterprise Centre, Leeds
Thu 9 July, 19:00
Actions & Decisions | Southwark Left Unity branch meeting
The Sun of Camberwell, London
Thu 16 July, 19:15
Why do we need Left Unity? Launch meeting for Teesside Left Unity Teesside Left Unity
St Mary's Centre, Middlesbrough
Sat 8 August, 13:30
Surround #YarlsWood - Demonstrate to SHUT IT DOWN - Shut Down ALL Detention Centres, END Fast Track & STOP the Scapegoating of Immigrants Movement for Justice By Any Means Necessary
Yarl's Wood Immigration Removal Centre
To submit an event email calendar@leftunity.org
GET UPDATES
Sign up to the Left Unity email newsletter.
CAMPAIGNING MATERIALS
Get the latest Left Unity resources.
LEFT UNITY NEAR YOU
Local branch contacts.